Facebook: Join over 12,000 people who keep up with us on Facebook!
---
NGAA Amazon Wish List
Things we need! Shop directly!
---

---
---
CHECK OUR URGENT NEEDS & UPDATES
---
Hey Folks! Due to the snow, our 2/8/2020 adoption event has been postponed till another day. Watch for an update!
---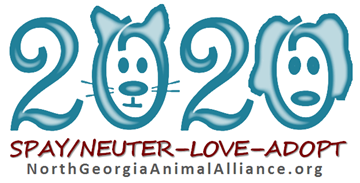 ---
We get to help write love stories every day...
---
CHECK OUT OUR NEW VOLUNTEER PAGE - THERE MAY BE SOMETHING JUST FOR YOU!
---
2018: We took in 727 animals (571 cats, 156 dogs)!! We provided vet care and spay/neuter, adopted out hundreds, transferred 167 to other rescues, helped with vet care for 115 owned animals and much more!
---
---
THOUGHT: If most cats and dogs were spayed or neutered, we wouldn't have full shelters, animals being euthanized every week, animals starving on the streets and in the woods. Such a simple, cheap way to solve a huge problem. Please urge your family, friends and neighbors to spay/neuter.
Animals make life richer and sweeter!
Many Ways to Help
Mr. O did not react well to going to the store to be adopted. He ended up with diarrhea, vomiting and other issues - and a vet bill of $224. He's doing a lot better now but vet says his teeth must be cleaned due to extreme tartar build-up and related bacteria. This kitty is a sweetheart and has a potential adopter. We just need to get him in good shape to go to his new home. Your help would be much appreciated. We're shopping best prices on teeth cleaning for him right now!
---
Shop Amazon Smile, choose NGAA as your charity, Amazon donates!

---
Our Amazon Wish List
---
---
---
---
---
---