Gracie and Lily's foster mom sent the couple pictures of all the kittens and they decided Gracie was the one for them. >>>>>
But the more the foster mom thought about it, the more she realized that separating Gracie and Lily was simply not an option. So she deluged the couple with pictures of both Gracie and Lily, especially pictures of the two together.
Fortunately, the couple fell in love with Lily, too! And they were undeterred by the fact that many of the pictures they were getting from the foster mom contradicted the claim that "You'll have fewer behavioral issues with two kittens."

Gracie and Lily's new parents saw through all the sisterly shenanigans!!
Gracie and Lily were two of seven kittens born in Georgia to Shelby, who already had three 4-month-old kittens and had lost her home.
The two girls were inseparable from the start. Where Gracie was, Lily was. Where Lily was, Gracie was.
When it came time to find homes for the girls, a couple in Pennsylvania was thinking about getting a kitten. They had lost their dear cat of over 20 years.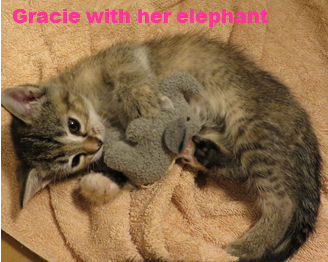 And not only pictures... propaganda, too!