Brownie's injury cost him a leg. His angel contacted NGAA (then CCAC) and we placed him in a foster home and put out the word that he needed someone who would love him and take care of him.
Two months after the vet had to remove his wounded leg, Brownie's new family found out about him and called NGAA. We want him, they said. Brownie had a new home and friends and he was allowed on the furniture!
But the good news doesn't end there! Not only has Brownie had a loving home since 2010, his family adopted another dog, Flapjack, who had lost a leg. Brownie has a friend just like himself!
Meet Brownie. He's the beautiful dog lounging behind Nellie the Cat.
In 2010, someone in Brownie's Ringgold neighborhood hated him enough to shoot him. A kind lady found the wounded dog in a ditch, licking blood from himself. She called Animal Control and was told that the injured dog would be euthanized if he ended up in the shelter.
Brownie was so friendly and so sweet, the lady said, that she wanted to do everything she could to save him.
Brownie's human angel took him to the vet and paid $800 of her own money to have him treated, but she couldn't keep him, and Brownie's owner said she couldn't keep him either.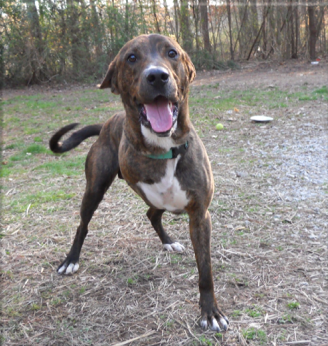 We're so grateful for people like Brownie's angel and the family that took Brownie in and found Flapjack, too.
We're working to create more happy endings for animals that find themselves neglected, abused or homeless.